Undoubtedly you will have heard about the tragic terrorist attack on Charlie Hebdo and most likely the hashtag #JeSuisCharlie. 12 died in the attack for being in an organisation that expresses opinions. Satire cartoonists and the media play an important part in our world: to highlight shortcomings of the powerful. I don't currently have opinionated artwork of my own on the internet, but if I do I want people to accept that I have a right to my own opinion. As a blogger, and an artist I have complied a selection of responses to the attack, making a stand for freedom of opinions.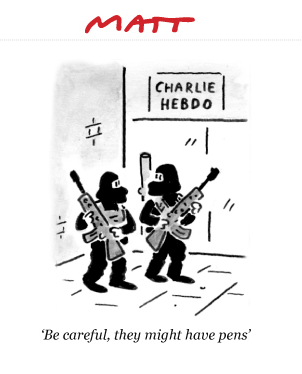 Matt, of the telegraph, captures perfectly the cowardice of the attackers.
In the same vein (unknown sources) demonstrate how ridiculous the attack was if these extremists are arfaid of pens and pencils.
I am a Christian and, whilst it dissapoints me when people hear a twisted truth, I know that the answer is to talk with people and present the evidence. The same is true of many Muslims and it's unfortunate that these few extremists cast a bad light on those who truly respect their religion. This is highlighted well by Carlos Latuff:
The following cartoons focus on the continuation of our freedom and the strenth of France, despite the threats from Al Qaeda.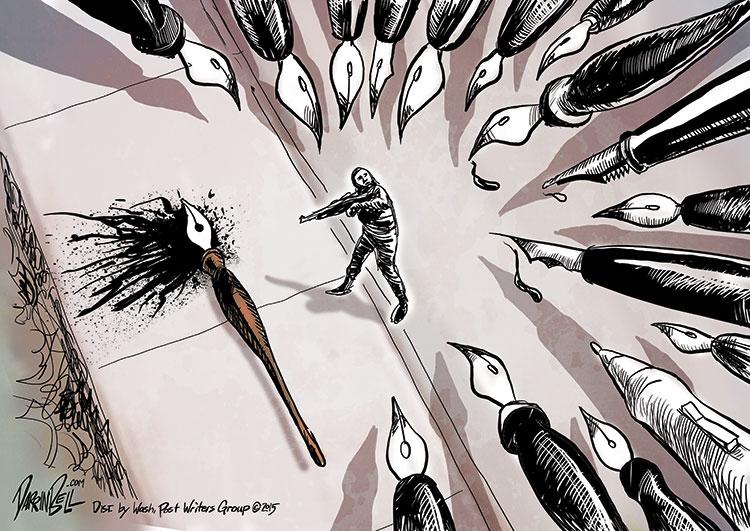 As a lot of these images are circulating on social media, I unfortunatley do not have the source for all. If you are aware of the source, or own any the images please let me know.

You can follow me here on WordPress or on Facebook . Check out the rest of my posts using the categories on the left or at my homepage